A Journey of Passion and Mastery
At Fat Boyz Barbecue, we are proud to introduce you to our talented pitmaster, Jarael Holston-Jones. From his humble beginnings as a church pastor to serving our country as a U.S. Army veteran, Jarael's journey has taken him from the pulpit to the pit. Born and raised in Pompano Beach, Jarael's love for authentic Southern barbecue is as deep as his roots in the community. Combining his culinary expertise with his love for his community, Jarael joined the Fat Boyz Barbecue family, bringing his unique touch to our menu.
Driven by an unwavering passion for great food and a commitment to serving others, Jarael knew he had found his calling in the world of barbecue. Equipped with a deep appreciation for the diverse and distinct regional barbecue styles found across the country, he set out on a mission to deliver an authentic and unforgettable dining experience to our customers.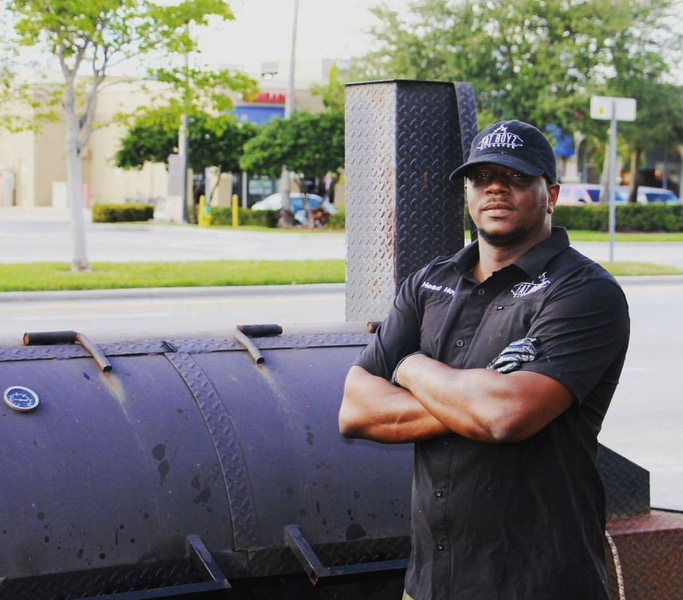 Meet Jarael Holston-Jones - Our Pitmaster
Get to know Jarael Holston-Jones, the talented pitmaster behind the mouthwatering barbecue at Fat Boyz Barbecue. Discover his incredible journey from church pastor and U.S. Army veteran to master of Southern flavors. Join us at our Fort Lauderdale and Deerfield Beach locations to taste the result of his passion and dedication.
It's More Than Just Food
Jarael has dedicated himself to mastering the techniques and flavors of various barbecue traditions. With meticulous research and countless hours spent perfecting his craft, he has acquired the skills to create succulent, tender, and expertly smoked meats that pay homage to the rich history of Southern barbecue.
His background as a church pastor has instilled in him a deep understanding of the importance of the communal dining experience. At Fat Boyz Barbecue, every visit is about more than just great food — it's about connecting with friends, family, and the local community. Jarael and his team go above and beyond to ensure that every customer feels welcomed and valued, creating a warm and inviting atmosphere where memories are made.
As a U.S. Army veteran, Jarael brings a sense of discipline, dedication, and a strong work ethic to his culinary creations. Just as he served his country with honor, he now serves up mouthwatering barbecue driven by a commitment to quality and consistency. Jarael's unwavering dedication ensures that every dish that leaves the Fat Boyz Barbecue kitchen is a testament to his meticulous attention to detail and a true reflection of his passion for excellence.
Meet Our Pitmaster Today
Step into Fat Boyz Barbecue and allow the flavors crafted by our Pitmaster, Jarael Holston-Jones, to whisk you away on a tantalizing journey of barbecue excellence. Whether you're seeking a casual dine-in experience, in need of catering for your next event or craving the convenience of our food truck, Jarael and our team are ready to exceed your expectations. Come and meet our Pitmaster today and discover the passion, creativity, and dedication that elevate Fat Boyz Barbecue to a whole new level of barbecue greatness.